The Fingal Head Community Planning Team (FHCPT) has been established to support the Fingal Head Community in preserving, protecting, and improving Fingal Head.
FHCPT will be made up of local volunteers and include the involvement of all groups within the community including:
Residents of the Fingal Head community
Fingal Head Community Association (

FHCA

)
Fingal Head Coastcare
Rovers Surf Club
Primary School and P&C
Sailing Club
Local businesses, etc.
The role of the FHCPT is to:
Develop, maintain and update a 20-year Community Plan;
Identify and scope out projects aligned with the plan;
Liaise with the Tweed Shire Council (TSC);
Communicate with Fingal Head Community about project progress and community plan updates;
Seek funding as required,
Facilitate, and potentially coordinate, the execution of projects
The FHCA has formally established the FHCPT as a subcommittee of FHCA to allow the FHCPT to operate in a legally compliant and responsible manner, for the short-term at least.
Fingal Head Community Plan
The FHCP, (also known as a Local Community Plan or Neighbourhood Plan), is a planning document that reflects the unique characteristics, challenges, and opportunities of the Fingal Head community over the next 20 years with specific emphasis on actions to enhance the quality of life, social well- being, and physical environment of the neighbourhood. It may cover areas such as local infrastructure, community services, land use, heritage preservation, environmental initiatives, and economic development specific to that community.
The FHCP is an evolving document that is initiated, managed and maintained by the Fingal Head Community Planning Team (FHCPT), a subcommittee of the Fingal Head Community Association (FHCA). The document should always reflect the current views, characteristics, challenges and opportunities affecting the Fingal Head community.
The TSC must approve the Fingal Head Community Plan prior to its adoption within the council.
Vision and Community Values
During 2019, the community in conjunction with the Tweed Shire Council collaborated and commenced the Fingal Head Locality Plan. The consultation process included the determination of a preferred vision (Option 4) for our community.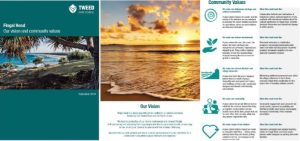 As part of the current process, the community will be consulted to ensure that the 2019 Vision and Community Values remain the preferred statements.
FHCPT

Mission

The FHCPT will work with the Fingal Head community (including stakeholders), all levels of government agencies and private sector parties to deliver / (to facilitate the development of) short and long term projects to better protect, preserve and improve Fingal Head.
FHCPT

Structure